How to finish PhD with success – Students Meet Experts on INTERSPEECH 2017
Doing a PhD in any field in any University in the world brings a lot of self-doubts, personal challenges and difficulties in common. The good is that there are also some common recipes to overcome these. In "Students Meet Experts" panel discussion at INTERSPEECH 2017, experts in area of linguistics and speech processing shared their PhD experiences with current PhD students. The experts participants were:
David Suendermann-Oeft – EMR.AI Inc.
Isabel Trancoso – INESC-ID Lisboa
Rivka Levitan – Brooklyn College CUNY
Murat Saraclar – Professor @ Bogazici University
Catherine Pelachaud – Paristech
Peter Cahill – Founder & CEO @ Voysis
Julia Hirschberg – Columbia University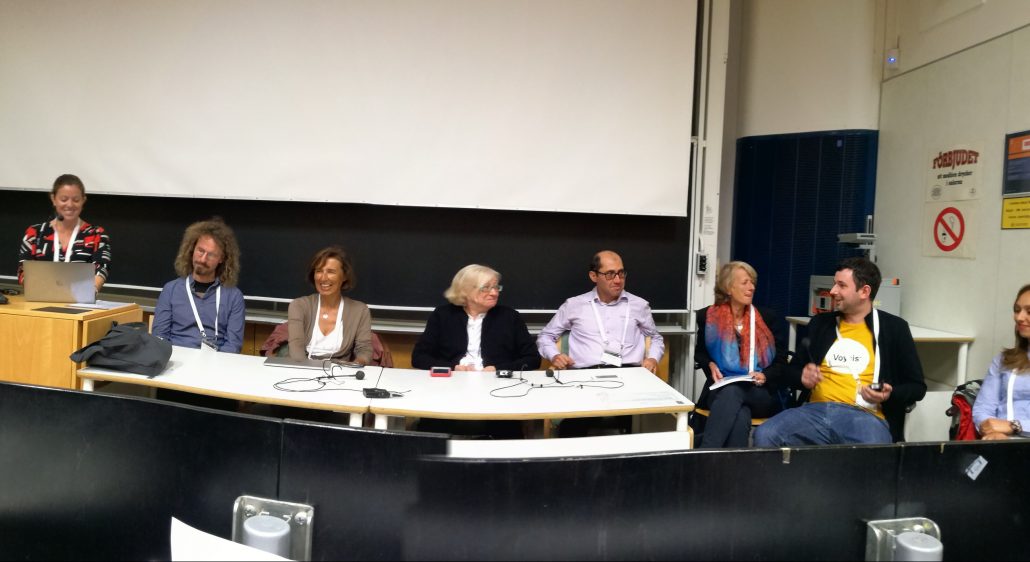 Beside the information shared their support and positive "everything is going to be all right attitude." I share key points from the event. Enjoy!
Almost everyone had doubt that they will finish
"Have you ever thought "I will never finish"?" was the question that opened the panel discussion. The experts agreed that all have that doubt at some point of their research. Some of them openly shared "I thought I will never finish." :) because it  "It takes a lot of effort and concentration." The most encouraging is to know that you are not the only one experiencing bad moments, periods of desperation and discouragement. "It is natural to have a lot of ups and downs." We are working on something new and uncertain and it takes courage to face it every single day. Experts also shared that it is OK to change the subject, but that it also takes time and proper research to discover if some idea makes sense or not.
Key skills you need to succeed in your PhD project
The experts listed soft skills which used them very well to finish their PhDs and later to build their careers. Those are entrepreneurship, time-management and communication.
Entrepreneurship
The key change you need in attitude is that you are not any more somebody who has to fulfil this or that requirement, or that you expect someone to set your goals and define ways and deadlines. "It is your personal project" so it is up to you to define "1) what do you want to achieve? and 2) how you want to achieve it?"
"You really have to love it." – it is a lot of work, dedication and effort you put in
Time management
Chose. Time is your energy, your resource. You invest your time in something every single day – so it is up to you to make a decision: What you spend your time on? Is that relevant and important for your big picture and to your goals? Does that bring you value?
Allocate. "Plan where you want to be in 1 year, 3 years, 5 years and allocate time in advance to learn the skills you want to learn or to execute something you want." It is also important that you "keep up with programming" or any other skill that makes you competent on job market, although it is not directly related to your PhD project.
Communication & presentation skills
All the experts agreed on importance of highly developed communication skills. "Communication is the key – it makes the key difference in salary, when you have the same skills as someone else :)" The way you communicate, write and present your ideas defines how others see them. The better you are, the easier is to you to publish and advance.
"Keep your mind open"
"Listen to related courses."
"Read broad topics and open your mind."
"Be open to things."
"Discuss! It is very healthy"
"Get involved."
"Learn how to mentor"
Learn how to define what do you expect from your mentees and be their support.
"Identify and heal your shortcomings"
"Identify what are your bad parts" – What is slowing you down? Is there something you need to learn? Is there something that you have to change in your approach? "Distractions are very bad things." – if you are constantly distracted, your focus is not dedicated to your work, you end up doing everything else but your PhD. That is deathly for your productivity and quality of your work.
Life/work balance
The last question discussed on the event was about work/life balance. All the experts agreed that it is challenging but not impossible to have a life while you are pursuing your PhD. I will end this article quoting one of the experts:
"Don't do things out of fear, choose life for yourself. I feel lucky to have these choices."
More on time & self management for young researchers can be found in
https://www.morethanprogramming.com/2017/09/25/interview-bjorn-schuller-how-to-do-it-all/
Author: Milana M.
https://media.tosamja.rs/2018/09/logo-fenix-180x180.png
0
0
Milana Milošević
https://media.tosamja.rs/2018/09/logo-fenix-180x180.png
Milana Milošević
2017-09-29 12:36:18
2019-02-02 21:02:30
How to finish PhD with success – Students Meet Experts on INTERSPEECH 2017